ST. GEORGE'S CEMETERY (EPISCOPAL), SCHENECTADY, NY
DEATHS 1788-1994
Data typed originally by Robert Vines

Contributed by Jonathan Pearson IV 2000
Notes and Webpage by Cliff Lamere July 2001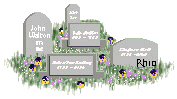 There are 450 gravestones represented on this webpage. Any information in square brackets [ ] was added by Cliff Lamere. The source of maiden names, parents' names and husband's names is unknown to me. The cemetery is on two sides of the church. The crowded, old gravestones occupy an area no longer than the church and only about 20-30 feet wide. About 90% appear to be on the north side of the church (see map). The church and cemetery are in the oldest area of Schenectady which is known as the Stockade. This section of the city has houses very close together (little or no space between them).

The form in which this file was received would have caused it to take about six times as long for it to appear on your computer screen. My many attempts to reduce the size of the file failed. Only the computer expertise of Kari Maunu was able to solve the problem and make it possible for you to view the data quickly.
CAUTION : Much data is beyond the right edge of the screen.




                                                     FATHER'S     FATHER'S         MOTHER'S            MOTHER'S   HUSBAND'S     
SURNAME (MAIDEN)        GIVEN NAME                   SURNAME      GIVEN NAME       GIVEN NAME          SURNAME    GIVEN NAME             BIRTH DATE                    DEATH DATE                    AGE AT DEATH                               PLACE OF BIRTH                                     INSCRIPTION

Allen (Brown)           Jane                         Brown                                                         Caleb                 Monday, December 14, 1801     Tuesday, July 22, 1845                                                                                                      Wife of Caleb Allen - The remains of her husband lie in the Presbyterian ground
Anthony                 Ann                                                                                        Jared                                               Saturday, May 03, 1873        In the 79 th year of her age                                                                  Rest for the weary
Anthony                 Eliza J.                                                                                                                                       Wednesday, September 23, 1846 Aged Aged 13 Days
Anthony                 George                                                                                                                                         Monday, October 10, 1853      Aged 38 Yrs.
Anthony                 George D.                                                                                                                                      Wednesday, June 30, 1841      Aged 3 Yrs., 13 Days
Anthony                 Jared                                                                                                                                          Thursday, December 31, 1863   In the 62 nd year of his age                                                                  Rest in peace
Anthony                 Lyda                                      William H.       Catharine                                                                           Friday, August 10, 1855       Aged 18 Mos.
Anthony                 Lydia                                     Wm. H.           Catharine                                                                           Friday, August 10, 1855       Aged 18 Mos.                                                                                  Sweet is the memory of my child / Whose body here doth lie / But sweeter still the thought she lives / in brighter worlds on high.
Anthony                 Wm. H.                                                                                                           Monday, February 19, 1821     Friday, September 06, 1889
Anthony (Holmes)        Jane                         Holmes                                                        George                                              Friday, August 08, 1851       Aged 33 Yrs.
Anthony (Vrooman)       Catharine                    Vrooman                                                       Wm. H.                                              Monday, June 19, 1871         In the 42 nd year of her age                                                                  Oh mother the hours have been weary with age / Since they laid thee to rest.
Apps                    Abram                                                                                                                                          Sunday, November 06, 1881     Aged 61 Yrs.
Apps                    Hannah                                                                                                                                         Wednesday, January 03, 1883   Aged 61 Yrs.
Apps                    Mary Ella                    David
Apps                    Sarah Davis                               Abraham          Hannah                                                                              Wednesday, September 04, 1844 Aged 25 Yrs., 10 Mos., 11 days                                                                That my Redeemer liveth
Babcock                 Ezra                                                                                                                                           Wednesday, January 27, 1830   Aged 36 Yrs.                                                                                  The goodness of life the comfort the joy
Bannard                 L.                                                                                         Wm.                                                                                                                                                                             Mother
Bannard                 Wm.                                                                                                              Monday, April 30, 1798        Sunday, January 16, 1881                                                                                                    Father
Bannard (Umney)         Susan                        Umney                                                         Wm.                   Monday, April 11, 1791        Tuesday, March 16, 1869
Barnes                  Elizabeth E.                                                                                                                                   Sunday, August 28, 1881       Aged 67
Barnes (Hall)           Lurana                       Hall                                                          Samuel S.                                           Tuesday, March 22, 1864       Aged 78 Yrs.
Bell                    Samuel                                                                                                                                         Wednesday, June 13, 1821      Aged 28 yrs.                                                                                  God my Redeemer lives / And ever from the skies / Looks down & watches all my dust / Tell he shall bid it rise.
Benedict                James A.                                                                                                                                       Thursday, January 03, 1833    Aged 26 Yrs., 4 Mos., 22 Days                                                                 Why doth --- love overflow / the --- dear friends forbear / Why should you ---
Benedict                Lucy Almina                                                Almina                                                Sunday, October 17, 1847      Wednesday, August 16, 1848
Bengtson                Ann Dorothy                                                                                                                                    Tuesday, June 18, 1957
Bisbee                  Iraw                                      Rufus            Marian                                                                              Sunday, March 08, 1857
Boyd                    John C.                                                                                                                                        Sunday, March 11, 1888
Boyd (Holmes)           Margaret                     Holmes                                                        John C.                                             Wednesday, March 05, 1873     Aged 56 Yrs.
Brittin (Sprague)       Maria                        Sprague                                                       A.                                                  Wednesday, August 27, 1834    Aged 41 Years & 4 Mos.
Broderick               John                                                                                                                                           Wednesday, February 15, 1865  Aged 77 Yrs.
Brown                   Ann                                       John             Elizabeth                                                                           Monday, February 12, 1810     In the 7th Yr. Of he age.
Brown                   Dolly Ann                                 John             Rebecca                                                                             Wednesday, August 07, 1811    Aged 11 Mos., 7 days
Brown                   Edward                                    John             Elizebeth                                                                           Monday, August 10, 1818       Aged 10 Yrs., 6 Mos.
Brown                   Eliza Jane                                                                                 Thomas                                                                            1822 - 1899
Brown                   Hellen                                    John             Elizabeth                                                                           Thursday, November 30, 1820   Aged 21 Yrs., 2 Mos., 21 Days
Brown                   John                                                                                                                                           Thursday, November 19, 1863   In the 81st Yr. Of his age.
Brown                   John                                                                                                                                           Monday, April 08, 1816        Aged 51 Yrs., 10 Mos., 11 Days             Liverpool, England
Brown                   John W.                                                                                                                                        Thursday, June 30, 1814                                                  A native of Great Britain                          came to Schenectady in 1748 where he remained until his death; / the founder, an steady friend of this church
Brown                   John W.                                                                                                                                        Saturday, June 29, 1811       Aged 87 Yrs.
Brown                   Margaret                                                                                                         Sunday, February 03, 1828     Thursday, January 19, 1899
Brown                   Rebecca                                                                                    John                                                Sunday, April 21, 1833        In the 50th Yr. Of her age.                                                                   Consort of John Brown. Blessed are the Pure in heart…….
Brown                   Thomas                                                                                                                                                                       1821 - 1863
Brown (Gore)            Elizabeth                    Gore                                                                                                              Friday, March 25, 1831        Aged 62 Yrs., 3 Mos., 21 Days              Liverpool, England                                 Relict of John Brown. Receive O Earth her faded form / In thy cold bosom let it lie / Safe let it rest from every storm / Soon it must rise no more to die.
Buchanan                Samuel R.                                                                                                                                      Monday, September 20, 1869    Aged 37 Yrs.
Buchanan (Ohlen)        Mary Augusta                 Ohlen                                                         Samuel R.                                           Thursday, June 25, 1896       Aged 59 Yrs.
Butler                  Alice L.
Campbell                Daniel                                                                                                                                         Tuesday, August 17, 1802      Aged 77 Yrs., 21 Days                                                                         armis et fide
Campbell                David                                     Daniel           Angelica                                                                            Monday, June 29, 1801         Aged 32 Yrs., 7 Mos., 20 Days                                                                 lamented by his afflicted parents / and a numerous train of friends & / relatives and whose loss particularly / interested those indigent mortals re- / quiring the helping hand of Charity. / A virtue eminently conspicuos in / the character of the deceased
Campbell (Bradt)        Angelica                     Bradt                                                                                                             Monday, September 28, 1812    In the 80th year of her age                                                                   Relict of Daniel Daniel Campbell Esq. / Family vault of Daniel Campbell ESQ.
Canivet                 Jean                                                                                                             Wednesday, September 07, 1887 Thursday, July 09, 1925
Carley                  Eleanor                                                                                    Gerardus D.           Sunday, September 01, 1805    Sunday, February 07, 1869
Carley                  Elizabeth Fisher                          Gerardus Q.      Eleanor                                                                             Wednesday, October 06, 1830   Aged 20 Days
Carley                  Gerardus                                                                                                                                       Monday, June 14, 1869         Aged 31 Yrs., 5 Mos., 12 Days
Carley                  Gerardus D.                                                                                                      Friday, February 05, 1796     Tuesday, October 19, 1875
Chasner                 Robert                                    Robert           Jane                                                                                Monday, March 13, 1843        Aged 16 Yrs., 1 Mo.
Chequer                 Mary Ann                                                                                   Charles C.
Clench                  Nelly                                                                                      Thomas B.             Monday, April 17, 1769        Tuesday, May 08, 1849         80 Yrs, 1 Mo, 1 Day                                                                           Widow of Thomas B. Clench
Clench                  Thomas B.                                                                                                        Wednesday, August 12, 1767    Saturday, May 22, 1830        62 Yrs.. 9 Mos.                                                                               Son of Wm. J. & Marg. Powell
Cole                    Nathan                                                                                                                                         Sunday, May 22, 1842          Aged 65 Yrs.
Cooke                   Joseph M.                                 Richard          Sarah                                                 Thursday, March 11, 1813      Friday, August 15, 1828
Cooke                   Peggy P.                                                                                                                                                                     65 Yrs.
Cooke                   Richard                                                                                                                                        Monday, June 17, 1833         In the 63rd Yr. Of his age.
Cooke                   Samuel S.                                                                                                                                      Thursday, September 01, 1825  Died Sept. 1825 in the 29th Yr. Of his age                                                    Erected by Richard M. Cooke brother of
Cooke                   Sarah                                                                                      Richard                                             Wednesday, July 19, 1848      Aged 79 Yrs.
Cooke                   Sarah Ann                    Cooke        Richard          Sarah                                                                               Wednesday, November 02, 1808  Aged 4 Mos., 10 Days
Cooke                   Theodore P.                                                                                                                                                                  1 Yr., 3 Mos.                                                                                 Died June the 28th, 180?
Cooper                  Eliza Maria                               Stephen          Sarah Ann                                                                           Thursday, August 18, 1836     Aged 22 Mos.
Cooper                  Emeline S.                                                                                                                                     Sunday, October 03, 1847      Aged 22 Yrs.                                                                                  Shhort was my life / But long my rest / the Lord took it / When he thought best.
Cooper                  Frederick                                                                                                                                      Friday, July 13, 1849         Aged 20 Yrs.
Cooper                  George                                                                                                                                                                       Aged 62 Yrs.                               A native of Great Britain
Cooper                  John Stewart                              Stephen          Sarah Ann                                                                           Thursday, June 10, 1841       Aged 8 Yrs.
Cooper                  Margaret                                                                                   George                                              Thursday, March 17, 1842      Aged 58 Yrs.
Cooper                  Margaret Rutter                           George           Mary F.                                                                             Wednesday, February 14, 1844  Aged 12 Yrs., 9 days
Cooper                  Sarah                        Cooper       Stephen          Maria                                                                               Friday, March 02, 1855        Aged 27 Yrs., 3 Mos.
Cooper                  Stephen                                                                                                          Tuesday, March 26, 1799       Friday, February 06, 1880                                                                                                   A native of England
Cooper                  William Herman Peek                       Stephen          Sarah Ann                                                                           Wednesday, November 24, 1841  Aged 2 Yrs., 6 Mos.
Cooper (Marsh)          Marie                        Marsh                                                         Stephen                                             Tuesday, October 02, 1832     In the 31st Year of her age
Cooper (Van Schaik)     Sarah Ann                    Van Schaik                                                    Stephen               Thursday, August 09, 1804     Wednesday, December 02, 1891
Corlett                 William                                                                                                                                        Monday, November 13, 1815     In the 13th Year of his age.
Cosgrave                Archibald                                                                                                                                      Saturday, June 22, 1861       Aged 5 Yrs.
Craig                   James R.                                                                                                         Saturday, December 18, 1813   Sunday, April 29, 1877
Craig (Walton)          Margaret                     Walton                                                                              Thursday, January 06, 1820    Thursday, April 23, 1874
Crawford                Alex                                                                                                                                           Tuesday, May 08, 1855         87 Yrs.                                    Ayrshire Scotland                                  We shall meet again
Crocker (Howes)         Eliza                        Howes, Esq.  Isaac                                            Rev. A. B.            Sunday, April 26, 1818        Monday, May 01, 1848                                                                                                        Wife of Rev. A. B. Crocker, N.Y. / Daughter of Isaac Howes, Esq. Schenectady
Cunningham              Aillean                                                                                                                                        Monday, April 01, 1811                                                   London
Davis                   Elizabeth F.                                                                               Harvey                Wednesday, June 16, 1802      Friday, August 20, 1852       In her 51 st Year
Davis                   Harvey                                                                                                                                         Tuesday, September 27, 1859   Aged 68 yrs.
Davis                   Mary                                                                                       Harvey                                              Wednesday, May 14, 1834       In her 42 nd year of her age                                                                  In her life were exemplified the dutiful-----
Davis                   Wm. C.                                                                                                           Monday, August 16, 1830       Monday, March 20, 1876
Davis (Brown)           Sarah                        Brown        John             Elizabeth                       James                                               Friday, April 18, 1828        Aged 30 Yrs., 3 Mos., 19 days
Doson                   Joseph                                                                                                                                         Tuesday, March 18, 1788       Aged 62 Yrs.                               England                                            What tho in age have I leave my wife / And all the joys of human life / Grieve not my friends to see me die / For so must you as well as I / Life is a flower that soon will fade / And Death a Debt that must be paid / So farwell Friends your grief refrain
Duane                   Benjamin Mumford                                                                                                                               Thursday, February 09, 1882   Aged 74 Yrs., 2 Mos.
Duane                   Cornelius                                                                                                                                      Monday, January 17, 1887      Aged 77 Yrs., 10 Mos.
Duane                   Frances Rebecca                                                                                                                                Wednesday, February 08, 1871  Aged 78 Yrs.                                                                                  Numbered with thy Saints.
Duane                   Frederick Augustus                                                                                                                             Sunday, January 14, 1883      Aged 77 Yrs., 11 Mos.
Duane                   Henry                                                                                                                                          Wednesday, October 13, 1813   18 Yrs., 7 Mo., 11 Days
Duane                   James                                     Samuel W.        Martha B. Jones                                       Tuesday, November 10, 1818    Thursday, December 26, 1822
Duane                   James C.                                  Hon. James       Mary Livingston     Livingston                        Sunday, December 03, 1769     Sunday, December 25, 1842                                                                                                   Son of the Hon. James Duane the Revolutionary patriot and Mary Livingston his wife. This monument is erected over his grave by his children in greatful recognition of a reverend parent and Christian Gentleman who as a citizen faithfully discharged his du[ty]
Duane                   John Bowers                                                                                                                                    Wednesday, May 30, 1883       Aged 83 Yrs., 2 Mos.
Duane                   Walton                                    William North    Eliza Prince                                                                        Saturday, August 06, 1881     Aged 44 Yrs.                                                                                  So he bringeth them to the Hav'n / where they would be.
Duane                   William North                                                                                                                                  Wednesday, May 10, 1871       Aged 62 Yrs.
Duane (Bowers)          Mary Ann                     Bowers       Henry            Mary                            James C.              Wednesday, December 01, 1773  Sunday, February 10, 1828                                                                                                   This inscription is placed on the monument of her husband beside whose grave her mortal remains repose. Worthily and cheerfully she preformed her part in the exercise of that extended charity and hospitality which her position in society rendered an incum[?]
Duane (Robison)         Gertrude                     Robison                                                       Cornelius                                           Tuesday, May 07, 1811         27 years
Duane (Walton)          Eliza Prince                 Walton                                                        William North                                       Wednesday, May 28, 1884       Aged 76 Yrs.
Dunlop                  Elizabeth                                 John             Elen                                                                                Thursday, August 16, 1838     15 Mos. & 3 days
Egolf                   John R.                                                                                                                                        Thursday, April 05, 1849      24 Yrs., 9 Mos.
Egolf                   William W.                                John             Rebecca                                                                             Sunday, June 30, 1850         3 Yrs., 4 Days                                                                                Mourn not ye whose child has found / Purer skies on holier ground / Flowers of brighter pleasant hue / Free from thorns and fresh with dew.
Evans, Jr.              John Douglas                                                                                                                                                                 1954 (Baby)
Fanstone                Eliza                                                                                      James                                               Sunday, November 09, 1879     Aged 61 Yrs.                                                                                  Rock of ages cleft for me
Fanstone                James                                                                                                                                          Sunday, February 15, 1891     Aged 84 Yrs.                                                                                  Gone but not forgotten
Fanstone                James William                             James            Eliza                                                                               Wednesday, August 18, 1858    AE 1 Year & 7 Mo.                                                                             Jesus shall suffer little children and for ….. Kingdom of heaven
Fanstone                William                                   James            Eliza                                                                               Thursday, August 21, 1862     Aged 1 Year & 3 Mos.                                                                          Willie, gone home
Ferguson                Mary Linn                                 John             Sarah                                                                               Tuesday, April 20, 1852       Age 9 Mos.
Fisher                  Elizabeth                                                                                                        Thursday, February 12, 1778   Sunday, December 23, 1849                                                Born in England
Foote                   Robert                                    David            Mary                                                                                Monday, May 25, 1818          Aged 12 Yrs., 2 Mos., 11 Days
Forrester               Levison G.                                                                                                                                     Wednesday, May 08, 1861                                                  a native of Staffordshire Potteries England
Forrister               Robert                                                                                                                                         Wednesday, March 03, 1813     36th Year of his age                                                                          An effectionate husband , tender father, beloved by all who knew him.
Fullagar                James                                     Thomas           Elizabeth                                                                           Friday, March 13, 1840        Aged 15 Yrs., 11 Days                                                                         Chicago, Ill.
Fullagar                John                                                                                                             Thursday, February 05, 1789   Friday, June 11, 1869                                                    Born in Kent England
Fullagar                John                                      Charles C.       Ann Chequer                                                                         Sunday, February 25, 1844
Fullagar (Langley)      Mary                         Langley                                                       John                  Sunday, August 30, 1789       Tuesday, March 08, 1870                                                  Born in Kent England
Fuller                  ----cills                                                                                  Robert Mason                                        Saturday, September 01, 1821                                             a native of Ireland
Fuller                  Mercilla                                  Robert M.        Rebecca                                               Wednesday, March 26, 1828     Wednesday, February 17, 1830  Aged 1 Yr., 10 Mos., 11 Days
Fuller                  Robert M.                                                                                                                                      Thursday, September 07, 1848  Aged 66 Yrs.                               a native of Ventry Kerny, Ireland
Fuller                  Robert Mason                                                                                                                                   Wednesday, May 02, 1860       Aged 22 Yrs.
Fuller                  Sarah A.                                                                                   William               Friday, August 20, 1813       Thursday, July 29, 1875                                                                                                     Her children arise up / and call her blessed. Prov. 31:28
Fuller (Gally)          Rebecca                      Gally                                                         Robert Mason                                        Saturday, December 17, 1836
Glass                   Daniel                                                                                                                                         Saturday, July 29, 1854       Aged 44 Yrs.                               Native of Antram C. Ireland
Glen?                                                                                                                                                                  Monday, September 23, 1805
Glen?                                                                                                                                                                  Monday, September 16, 1805
Gombault (Cooke)        Margaret                     Cooke        Richard                                          Augustus                                            Sunday, February 17, 1861     Aged 65 Yrs., 1 Mo., 1 Day
Green                   John                                                                                                                                                                         Died 29th 1841, Aged -- Yrs.               A native of England
Gregory (Cooke)         Sarah R.                     Cooke        Richard                                          Samuel E.                                                                                                                                                                       Youngest Daughter of the latre / Richard Cooke / 1818 - 1888
Griffin                 Deborah                                                                                    William                                             Tuesday, March 19, 1850       In the 81st Yr. Of her age.
Griffin                 William                                                                                                                                        Saturday, April 15, 1826      In the 83re Yr. Of his age.
Hand                    Irene                                                                                      Joseph                                              Friday, March 03, 1843        Aged 48 Yrs.
Hand                    Mary Ann                                                                                                                                       Friday, August 12, 1842       Aged 26 Yrs.
Harman                  Thomas                                                                                                                                         Friday, May 05, 1848          Aged -8 Yrs.                               Native of --- in the Kingdom of Ireland
Harman                  Thomas W.                                                                                                                                      Saturday, March 11, 1848      Aged 39 Yrs.
Harman (Dudley)         Deborah                      Dudley       Joshua                                           Thomas                                              Tuesday, October 26, 1841     Aged 59 Yrs., 6 Mos.                       Ireland                                            Wife of Thomas Harmon and daughter of Joshua Dudley of Golden Grove Town of Bossgray in the County of Tipperary in Ireland
Harmon (De Graf)        Catherine                    De Graf      Harmanus         Jane                                                                                Sunday, November 20, 1864     Aged 62 Yrs.
Hart                    Frank Mitchell                                                                                                                                                               Aged 6 Mos., 2 Days
Hawley                  Henry T.                                                                                                                                       Monday, April 05, 1858        Aged 53 Yrs.
Hawley (Emerson)        Sarah                        Emerson                                                       Henry T.                                            Friday, February 18, 1853     In her 43rd Year
Hayes                   Zelotus                                                                                                                                        Wednesday, August 22, 1849    In the 50th Yr. Of his age.
Hearsey                 David                                                                                                                                          Tuesday, September 02, 1862   Aged 83 Yrs.                               A native of Hingham, Mass.                         A faithful friend of this church, / for forty years and one of its Vestry, / and at his death Senior Warden. / "From death unto life"
Hearsey                 David                                                                                                                                          Tuesday, September 02, 1862   Aged 83 Yrs.                               Hingham, Mass.
Hearsey (Little)        Mary                         Little                                                                              Wednesday, April 16, 1777     Thursday, April 12, 1860
Hearsey (Lytle)         Sarah                        Lytle                                                         David                                               Monday, April 17, 1871        Aged 71 Yrs.                               Born 1800
Herbert                 George                                    John             Betsey
Herwood                 Hudson                                                                                                                                         Wednesday, June 27, 1832      In his 51th Year of his age                Native of England
Hill                    Martha                                                                                                                                         Monday, November 17, 1879                                                                                                   Faithful unto death
Holmes                  James A.                                                                                                                                       Thursday, April 07, 1870      Aged 30 Yrs.                                                                                  Farwell my wife and friends most / dear I am not dead but sleeping / here My debt is paid my grave you / see Prepare for death and follow me.
Howes                   Amanda S.                                                                                  Wm.                                                 Friday, April 30, 1852        Aged 35 Yrs.
Howes                   Isaac                                                                                                                                          Monday, October 09, 1854      Aged 70 Yrs.
Howes                   Leah C.                                                                                    Isaac                                               Wednesday, July 05, 1843      Aged 58 Yrs.
Howes                   Thomas C. (M.D.)                                                                                                 Saturday, December 25, 1824   Saturday, November 18, 1876
Howes                   William                                                                                                                                        Monday, June 06, 1864         Aged 52 Yrs.
Howes, Esq.             John                                                                                                                                           Tuesday, October 27, 1846     Aged 38 Yrs.
Hulbert (Hill)          Mercy                        Hill                                                          Stephen                                             Thursday, May 08, 1862        Aged 88 Yrs.
Humphrey                Clayton B.                                                                                                       Saturday, September 10, 1910  Saturday, July 21, 1962
Humphrey                Helen D.                                                                                   Clayton B.            Friday, January 13, 1911      Tuesday, July 26, 1994
Humphrey (Brakefield)   Mary Ann                     Brakefield   Charles          Mary                            Felix                 Friday, May 24, 1811          Sunday, June 02, 1850                                                    Possibly of Kent, England                          Charles & Mary Brakefield of England, Kent
Humphreys               Ann                                                                                                                                            Monday, October 05, 1885      Aged 51 Yrs.
Humphreys (Dingman)     Caroline                     Dingman                                                                                                           Saturday, December 04, 1841   Aged 21 Yrs., 10 Mos.
Hutchison               William G.                                William          Hester                                                                              Sunday, September 16, 1855    1 Yr., 2 Mo., 26 Days
Hutchison (Davis)       Caroline H.                  Davis                                                         Wm.                                                 Tuesday, June 15, 1852        in the 28th Year of her age                                                                   Your happiness is not the groeth of earth / The toil is Fruitless if you see it here / Tis an ---- of Celestial Girth / And only Blooms but in clelestial air.
Irvin                   Mary                                                                                       William                                             Wednesday, March 21, 1838     Aged 26 Yrs.                                                                                  To those who for her loss are griev'd / This can ------ giv'n / She's from a world af woe reliev'd / And bloomed a rose in heaven.
Jackson                 Alonzo C.                                                                                                        Monday, May 05, 1873          Saturday, January 18, 1908
Jackson                 Alonzo Clinton                                                                                                   Wednesday, December 10, 1823  Monday, March 21, 1853                                                                                                      United States Navy
Jackson                 Alonzo Paige                              A. H.            M. C.                                                 Thursday, August 24, 1871     Wednesday, October 11, 1871
Jackson                 Diana C.                                                                                                         Monday, February 25, 1799     Thursday, March 19, 1863
Jackson                 Edward Winslow                                                                                                   Wednesday, November 07, 1877  Saturday, February 09, 1878
Jackson                 James Mumford                             Alonzo Clinton   Dora Astor                                            Thursday, August 05, 1852     Thursday, August 30, 1906
Jackson                 Samuel Willow                                                                                                    Thursday, June 28, 1821       Thursday, April 02, 1908                                                                                                    Faithful unto Death
Jackson                 Theodore                                                                                                         Friday, April 08, 1870        Saturday, July 30, 1870
Jackson                 Winslow                                                                                                          Sunday, July 08, 1866         Friday, September 20, 1867
Jackson (Mumford)       Dora Astor                   Mumford                                                       Alonzo Clinton        Tuesday, May 17, 1831         Tuesday, December 05, 1899                                                                                                  Numbered with thy saints.
Jackson (Smith)         Elizabeth                    Smith                                                         Robert                                              Monday, March 01, 1841                                                   Born in Listingham Kirby moorside Yorkshire Englan
Johnson                 Maria A.                                  B.D.             Edith E.                                                                            Sunday, June 01, 1856
Jones                   Elizabeth                    Jones        Samuel W.        Maria B.                                              Saturday, February 02, 1833   Monday, June 09, 1834
Jones                   Mary E.                                                                                                                                        Tuesday, July 02, 1861        Aged 17 Yrs., 8 Mo., 17 Days
Jones (Bowers)          Maria                        Bowers                                                        Hon. Samuel W.                                      Thursday, December 23, 1858   Aged 66 Yrs.                                                                                  ""Thy faith hath saved thee""
Joyce                   Darcy                                                                                                                                          Tuesday, March 28, 1848       Aged 76 Yrs., 8 Mos., 7 Days                                                                  How blest the righteous when he dies / When sinks a weary soul to rest / How mildly beam the closing eyes / How gently heaves th'expiring breast.
Joyce                   Dorothy                                                                                    John                                                Sunday, April 11, 1813        Aged 65 Yrs.
Joyce                   George                                                                                                                                         Wednesday, May 04, 1853       Aged 72 Yrs.
Joyce                   Jane                                      John             Henrietta                                                                           Monday, October 25, 1813      Aged 1 Yr., 2 Mos., 10 Days
Joyce                   John                                                                                                                                           Saturday, March 28, 1818      In the 73rd Year of his age
Joyce                   John Johnson                              John             Harrieta                                                                            Monday, February 26, 1810
Joyce                   Thomas                                                                                                                                         Tuesday, May 28, 1811         Aged 26 Yrs., 8 Mos., 8 days
Joyce (Grievs)          Hellen                       Grievs                                                        Darcy                                               Wednesday, March 05, 1823     Aged 18 Yrs.                                                                                  Within this tomb by death acr-- / A tender parent rest / with love sincere her children dear / She frequently caressed.
Joyce (Humphreys)       Rebecca                      Humphreys                                                     Darcy                                               Saturday, October 30, 1875    In her 83 Year.
Joyce (Stewart)         Jane                         Stewart                                                       George                                              Wednesday, February 09, 1831  Aged 63 Yrs.
Kane                    John Humphrey                                                                                                                                                                1805 - 1898
Kane (Van Vorst)        Martha M.                    Van Vorst                                                     John Humphrey                                                                     1839 - 1921
Kerr                    Mary                                                                                                                                           Tuesday, January 21, 1817     Aged 80 Yrs.
Killin                  Megan                                                                                                                                                                        1973 - 1975
King                    Betsy                                     William A.       Elizabeth                                                                           Sunday, March 22, 1868        Aged 38 Yrs., 10 Mos., 2 Days              A native of England
King                    Elizabeth                                                                                  Wm. A.                                              Sunday, April 14, 1878        Aged 79 Yrs., 6 Mos.
King                    George                                    William A.       Elizabeth                                                                           Friday, January 26, 1866      Aged 25 Yrs., 2 Mos., 2 Days
King                    William A.                                                                                                       Friday, July 09, 1824         Tuesday, October 01, 1907     Died at Utica, NY                          Born in England
King                    Wm A.                                                                                                                                          Wednesday, February 18, 1880  Aged 83 Yrs., 4 Mos.
King (Woollerson)       Metilda                      Woollerson                                                    Ayles Berry
Kinsel                  Frances Mary                                                                                                     Tuesday, November 07, 1815    Monday, August 13, 1821       Aged 3 Yrs., 9 Mos., 21 Days                                                                  Blessed are the dead / which die in the Lord.
Kinsel                  Thomas                                                                                                           Monday, February 26, 1776     Friday, October 11, 1822      Aged 46 Yrs., 7 Mos., 15 days
Kinsela                 Joseph                                                                                                                                         Monday, April 15, 1816        Born in 1749. Died at Schenectady
Lamey                   Andrew                                    Robert           Sarah                                                                               Thursday, October 20, 1853    Born in 1821
Lamey                   Jane                                                                                                             Tuesday, September 26, 1815   Saturday, March 17, 1900                                                                                                    At rest
Lamey                   Robert                                                                                                           Friday, June 08, 1832         Saturday, November 08, 1856   Aged 24 Yrs., 5 Mos.
Lamey                   Robert                                                                                                                                         Wednesday, February 24, 1875  In the 94th Yr. Of his age
Lamey                   Sarah                                                                                                            Sunday, May 01, 1814          Thursday, September 03, 1903
Lamey (Charlton)        Sarah                        Charlton                                                      Robert                                              Wednesday, April 27, 1842     Aged 51 Yrs.                               Born in Tyrone Co. Ireland in 1791                 Died at Schenectady
Lapin                   Alice                                                                                                                                          Monday, October 28, 1872      In the 60th Year of her age
Lawrence                Wm. Kennedy                                                                                                                                    Thursday, June 26, 1856       Aged 9 Yrs., 3 Mo., 17 Days
Lewis                   Elizabeth                                                                                                                                      Wednesday, September 23, 1874 Aged 62 Yrs.                                                                                  Faithful unto death
Lyon                    Mary Jane                                                                                                                                      Tuesday, October 08, 1895     Aged 83 Yrs.
Marks                   Ann                                                                                        George                                              Saturday, October 26, 1861    in the 71 Year
Marshall                Nan---                                                                                     Jacob                                               Monday, October 06, 1806                                                 Native of Ireland
Martin                  Charles                                                                                                                                        Saturday, January 17, 1818    In the 84th Yr. Of his age.
Martin                  Daniel                                                                                                                                         Saturday, September 19, 1835  Aged 58 Yrs.
Martin                  Eliza Catherine                                                                            Hugh R.                                             Saturday, September 13, 1834  Aged 41 Yrs., 7 days
Martin                  Jane                                      Charles          Jane                                                                                Saturday, March 20, 1802      Aged 14 Yrs., 1 Month, 20 days
Martin                  Jane                                                                                       Charles                                             Tuesday, April 19, 1803       In the 46th Yr. Of her age.
Martin                  Major H.R.                                                                                                                                     Thursday, May 11, 1848        Aged 69 Yrs.
Martin                  Mary                                                                                       Daniel                                              Sunday, January 06, 1839      Aged 56 Yrs.
Martin                  Mary Eliza                                Major Hugh R.    Eliza C.                                                                            Sunday, July 05, 1863
Mayer                   Gretchen                                                                                                                                       Sunday, August 23, 1964
McCamus                 Wm.                                                                                                                                            Monday, September 26, 1864    Aged 70 Yrs.
McCamus (Brown)         Jane E.                      Brown                                                         Wm.                                                 Sunday, July 02, 1854         Aged 49 Yrs., 6 Mos.
McCamus (Gardner)       Susan M.                     Gardner                                                       William                                                                           1822 - 1896
McFarland               William                                                                                                                                        Monday, December 05, 1853     Aged 13 days
Mellor                  Joseph                                    Thomas           Catherine
Miller                  Abijah                                                                                                                                         Friday, December 24, 1824     Aged - 9 Yrs.
Miller                  Charles                                                                                                                                        Tuesday, March 16, 1813       78 th Yr                                   Slainland Yorkshire, England                       Died on the 16th of March 1813 in his 78th year of Age
Miller                  Grace                                                                                                                                          Saturday, December 01, 1855   91 Yrs. & 10 Mos.                                                                             Aged 91 Years & 10 Mo.
Miller                  Henry A.                                                                                                         Monday, October 14, 1793      Sunday, January 28, 1827      Aged 33 Yrs., 3 Mos., 14 Days
Mills (Spahrr)          Elizabeth                    Spahrr                                                        John                                                Saturday, October 19, 1850    Aged 44 Yrs.
Mitchell                James H. C.                               James            Margaret                                                                            Friday, September 21, 1849    Aged 21 Days
Mitchell                John A.                                   James            Margaret                                                                            Thursday, May 03, 1849        Aged 1 Yr., 1 Mo., 17 Days
Moore                   Mary                                                                                       John                                                Sunday, July 06, 1806         In the 56 th year of her age                                                                  a benefactress of this church
Morgan                  John                                                                                                                                           Sunday, January 21, 1849      Aged 43 Yrs.
Morgan                  Mary Ann                                  John             Mary                                                                                Wednesday, October 30, 1811   Aged 12 Yrs., 11 Mos., 24 days
Morse                   Lewis Roberts Conklin                                                                                                                                                        1942 - 1964
Morse (Harman)          Anna Agusta                  Harman       Thomas                                                                                               Saturday, August 04, 1849     Aged 27 Yrs.
Mudge                   Ann                                                                                                              Wednesday, October 28, 1801   Monday, January 01, 1877                                                 Native of Devonshire England
Obrien                  Henry                                                                                                                                          Friday, April 26, 1816        Aged 11 Years
Ohlen                   Anna                                                                                       John                  Thursday, June 23, 1808       Monday, January 23, 1871      Aged 62 Yrs., 7 Mos.
Ohlen                   Henry G.                                  John             Anna                                                  Friday, July 20, 1832         Thursday, March 08, 1877
Ohlen                   John                                                                                                             Monday, May 08, 1797          Thursday, February 07, 1856   Aged 58 Yrs., 9 Mos.
Ohlen                   Sidney P.                                 John             Anna                                                  Thursday, February 02, 1843   Saturday, October 07, 1843    Twin
Ohlen                   Sidney Potter                             John             Anna                                                                                Sunday, October 01, 1843      Twin Son
Ohlen                   William M.                                John             Anna                                                  Thursday, February 02, 1843   Saturday, March 27, 1880      Twin
Orford                  Helen                                                                                                                                                                        1870 - 1954                                Teheran / Schenectady
Parsons (McKinlay)      Mary                         McKinlay                                                      Teter I.                                            Tuesday, January 31, 1837     Aged 44 Yrs., 18 Days
Payne                   Elizabeth Frost                                                                                                                                Saturday, November 02, 1872
Payne                   George Herbert                                                                                                                                 Friday, April 08, 1870
Payne                   Kathrine Howard                                                                                                                                Wednesday, July 18, 1849
Payne                   William                                                                                                                                                                                                                                                                    for 37 years rector of this parish ….MDCCCXLVIII - MDCCLXXXV
Payne                   William (Rev.)                                                                                                   Saturday, May 13, 1815        Thursday, March 19, 1891                                                                                                    In the memory of the Reverend William Potter - 36 years Rector of St. George's Church / The Righteous live for more their reward / also is with the Lord
Payne (Post)            Elizabeth                    Post                                                          REV., William                                       Thursday, July 06, 1871
Peavford                Rose                                                                                       Henry                                               Tuesday, January 16, 1849     Aged 72 Yrs.                               a native of Kent England
Peek (Clench)           Harriet                      Clench                                                        Harmanus                                            Wednesday, April 08, 1812     24 Yrs., 8 Mos. & 20 Days                                                                     Wife of Hermanus Peek
Peters                  Catherine                                                                                  Anw                   Friday, August 23, 1811       Monday, August 06, 1849
Peters                  Eddie                                     Andrew           Julia                                                                               Tuesday, February 22, 1859    Aged 4 Yrs.
Peters                  Katie                                                                                                                                                                        1860 - 1901                                                                                   None knew her but to love her ---/ From her fellow members of the N.Y.S.M.T.A.
Peters (Barnes)         Julia                                                                                      Andrew                                                                            1827 - 1908
Pettit                  David J.                                  J.               F.                                                                                  Saturday, October 01, 1814    Infant Son
Poggenpohl              Nadejda Nikolaevna                                                                                               Thursday, July 07, 1859       Thursday, July 04, 1940                                                  Kaluga, Russia                                     Died in Schenectady
Potter                  Charles Henry                             Horatio          Mary Jane                                                                           Wednesday, June 30, 1830      Aged 19 Mos.
Potter                  Clarkson Nott (Hon.)                      Alonzo           Sarah Maria (Nott)                                    Sunday, April 25, 1824        Monday, January 23, 1882                                                                                                    Died in New York
Potter                  David Tomlinson                                                                                                                                                              1836 - 1862
Potter                  Edward Tuckerman                          Alonzo           Sarah Maria (Nott)                                    Sunday, September 25, 1831    Wednesday, December 21, 1904                                                                                                Died in New York
Potter                  Eliphalet Nott (Rev.)                     Alonzo           Sarah maria (Nott)                                    Tuesday, September 20, 1836   Wednesday, February 06, 1901                                                                                                Died in the city of New Mexico
Potter                  Henry Codman (Right Rev.)                 Alonzo           Sarah Maria (Nott)                                    Sunday, May 25, 1834          Tuesday, July 21, 1908                                                   Born in Schenectady                                Died in Cooperstown, NY / Bishop of the Diocese of New York - 1883 - 1908
Potter                  Howard                                    Alonzo           Sarah Maria (Nott)                                    Saturday, July 08, 1826       Monday, March 24, 1879                                                                                                      Died in London
Potter                  Phoebe Maria                                                                                                                                                                 1838 - 1868
Potter                  Robert Brown (Major General)              Alonzo           Sarah Maria (Nott)                                    Wednesday, July 16, 1862      Saturday, February 19, 1887   Birth Date?????                                                                               Died at Newport, R.I.
Potter                  Robert Minturn                                                                                                                                                               1843 - 1866
Potter (Nott)           Sarah Maria                  Nott                                                          Rev., Alonzo                                        Saturday, March 16, 1839      Aged 39 Yrs.                                                                                  Tablet in church
Potter (Tomlinson)      Mary Jane                    Tomlinson                                                     Rt. Hon. Horatio D.D.                               Tuesday, June 08, 1847        Aged 42 Yrs.
Potter (Wilds)          Mary                         Wilds        J. Austin        Martha
Potter, D.D. L.L.D.     Alonzo                                                                                                           Thursday, July 10, 1800       Tuesday, July 04, 1865                                                   Beekman Dutchess County New York                   Tablet in CHURCH
Powell                  Arch'd Campbell                           Arch'd C.
Powell                  Archibald                    Powell       Wm. J.           Marg.                                                 Thursday, October 01, 1840
Powell                  T. Richard                                                                                                       Sunday, September 30, 1838    Tuesday, June 09, 1846                                                                                                      T.I. Richard V.I. Powell
Powell                  Thomas W.                                 Thos             Margaret                                              Tuesday, October 02, 1838                                   Died August 1850
Powell                  William                                                                                                                                        Monday, September 18, 1820    36 Year of his age                                                                            Therefore by ye also ready for in such an hour as ye think not the son of man cometh
Powell                  William H.                                                                                                                                     Thursday, October 22, 1885    Aged 81 Years
Powell                  William Harvey                            Arch'd C.
Powell (Davis)          Phoebe Ann                   Davis        Harvey                                           Arch'd C.                                           Sunday, August 15, 1841       Aged 24 Yrs.
Powell (Van Ingen)      Margaret L.                  Van Ingen                                                                                                         Monday, December 06, 1869     Aged 60 Years
Pratt                   John                                                                                                                                           Thursday, September 20, 1855  Aged 22 Yrs.
Pratt                   William C.                                                                                                                                     Thursday, April 08, 1852      52 Yrs.
Reed                    John Duane                   Reed         Rev., Thomas C.  Eliza S.                                              Tuesday, August 31, 1830      Saturday, December 29, 1832                                                                                                 Suffer little children to come unto me and forbid them not; for of such is the kingdom of heaven.
Reed                    Thomas C. (Rev., D.D.)
Reed (Duane)            Eliza S.                     Duane
Reese                   Rebeccam                                  Martin           Anna                                                                                Monday, June 25, 1849         Aged 1 Year, 11 Mos.                                                                          It was a sweet little flower / Too tender to stay / In this worlds chilling blast / It was withered away.
Remens                  Alfred                                    Charles          Rosanna                                               Friday, December 06, 1850     Tuesday, November 11, 1851
Rendell                 Edward P.                                                                                                        Thursday, June 11, 1807       Saturday, December 18, 1875
Rickards                Julia A.                                                                                                         Monday, September 22, 1817    Tuesday, October 11, 1870
Rickards                Thomas Broome                                                                                                    Wednesday, June 06, 1810      Monday, June 05, 1854
Riggs                   Isaac                                                                                                            Monday, November 08, 1779     Tuesday, June 18, 1850
Riggs (Seaman)          Catharine                    Seaman                                                        Isaac                                               Wednesday, January 03, 1872   In her 89 th Year
Ritchie                 Hannah                                                                                     George                                              Sunday, October 12, 1806
Robison                 Anna Maria                                                                                                                                     Thursday, August 11, 1836     21 Years
Robison                 Hugh                                                                                                                                           Friday, June 12, 1835         63 Years
Robson                  Anna M.                                   George           Isabell M.                                                                          Sunday, August 05, 1855
Robson                  Joseph Irwin                              George           Isabelle                                                                            Sunday, July 09, 1854
Rogers                  Anthony                                                                                                          Monday, May 11, 1750          Thursday, September 14, 1815                                             A Native of London, England                        Distinguished his moral / Social & Christian Virtues / He liv'd respected and died / Extensively lamented.
Rogers                  James                                                                                                                                          Saturday, May 25, 1861        Born in 1785                               Ireland                                            Alias Uncle Jimmy. Erected by the Students of Union College.
Rolsma                  Lynn Mari                                                                                                                                                                    1954 (Baby)
Rue                     Harriet                                                                                    Samuel M.                                           Saturday, August 25, 1821     Aged 51 Yrs., 5 Mos., 22 days
Sanders (White)         Ann                          White        John             Jane                            Charles                                             Sunday, January 04, 1846      Aged 36 Yrs.                               Late of Shalford Oxford J---England
Sauter                  Lucy M.                                   Casper           Amanda                                                                              Friday, April 05, 1867        Aged 6 Mos.
Scheauber               Cornelia A.                                                                                                                                    Sunday, May 24, 1846          Aged 22 Yrs.
Scudder                 Hewlett                                                                                                          Monday, August 09, 1875       Friday, July 31, 1942
Seaman                  Margaret                                                                                                                                       Friday, April 15, 1870        In her 83 rd Year                                                                             Sister to Catherine (Seaman) Riggs
Sexton                  Langley Hayden                            Samuel H.        Sara Sexton         Sexton                            Monday, January 08, 1849      Wednesday, August 28, 1850
Sexton (Fullagar)       Sarah                        Fullagar     John             Mary                            Samuel H.             Sunday, March 15, 1885        Sunday, March 15, 1885        ??? Dates
Seymour                 Frank W.                                                                                                                                       Thursday, June 22, 1876       In the 34th Yr. of his age.
Seymour                 Harmon                                                                                                                                         Monday, November 21, 1892     In the 84th Yr. of his age.
Seymour                 Sarah M.                                  Harmon           Jerusha                                                                             Thursday, June 03, 1819       Aged 3 Yrs., 9 Mos.
Seymour (Morehouse)     Jerusha                      Morehouse                                                     Harmon                                              Thursday, September 02, 1852  In the 39th Yr. Of her age.
Sharp                   Susanna                                                                                                                                        Sunday, October 18, 1857      Aged 50 Yrs.                               Native of Gloucestershire England                  I know that my ------
Sharratt                Ann                                                                                        Joseph                                              Tuesday, November 26, 1833    27 Years, 22 Days.
Sharratt                Joseph                                                                                                                                         Friday, November 08, 1833     46 th Yr. Of his age                       England
Shelley                 Rebecca                                                                                    Samuel                                                                            Aged 85 Yrs.
Shepherd                George                                                                                                                                         Monday, November 21, 1831     Aged 54 Yrs., 7 Mos., 28 days.
Smith                   Abel                                      Samuel T.                                                              Friday, August 07, 1818       Tuesday, December 16, 1873
Smith                   Abel                                      Samuel
Smith                   Frank                        Smith        David Cady       Elenor F.                                                                           Friday, September 05, 1851    1 Year, 23 Days
Smith                   Isaac H.
Smith                   Isaac Howes                                                                                                                                    Monday, May 31, 1875          Aged 29 Yrs.                                                                                  Died at San Francisco, Cal.
Smith                   Kate                                      Abel             Catherine                                                                           Monday, August 24, 1857       Aged 3 Mos., 14 days
Smith                   Samuel
Smith                   Samuel T.                                                                                                                                      Sunday, March 19, 1826        Aged 32 Yrs., 5 Mos., 1 Day                                                                   Father of Abel Smith
Smith                   Theodore Butler                           Wm. Howes        Alice S.                                                                            Monday, June 02, 1879         Aged 16 Mos.
Smith                   Wm. Howes                                                                                                        Sunday, January 28, 1849      Saturday, October 14, 1899
Smith                   Wm. Howes
Smith (Butler)          Alice L.                     Butler                                                        Wm. Howes             Monday, January 01, 1855      Monday, April 12, 1915
Smith (Howes)           Catherine                    Howes                                                         Abel                  Saturday, December 06, 1823   Thursday, March 30, 1882
Smith (Viele)           Mary                         Viele                                                                               Friday, May 19, 1854          Monday, July 29, 1912
Snare                   Edward H.                                                                                                                                                                    Aged 22 Yrs.
Snare                   James                                                                                                                                          Thursday, December 25, 1851   Aged 25 Yrs.
Snare (Avent)           Mary                         Avent                                                         James                                               Friday, January 09, 1863      Aged 43 Yrs.                               Native of London England
Snell                   Major                                                                                                                                          Monday, September 21, 1818    Aged 93 Yrs., 1 Mo., 29 Days               Yorkshire, England                                 God my redeemenr ---is / And---------the Skies / L----------
Soles                   Benjamin                                                                                                                                       Friday, September 13, 1861    In the 47th Year of his age
Soles (Fuller)          Harriet                      Fuller                                                        Benjamin                                            Tuesday, July 11, 1865        In the 33rd Year of her age
Soles (Fuller)          Maria                        Fuller       Robert M.        Mercilla                        Benjamin                                            Saturday, November 27, 1847   Aged 29 Yrs., 3 Mos., 1 Day
Sparey (Brown)          Eliza                        Brown                                                         John                                                                              1853 - 1879
Stewart                 Catherine                                                                                  Henry Y.                                            Wednesday, July 09, 1851      Aged 61 Yrs., 3 Mos., 22 Days                                                                 The memory of the just is blessed.
Stewart                 Henry Y.                                                                                                         Monday, October 25, 1784      Monday, May 30, 1870
Stuart                  Anna                                                                                       Nathan                Tuesday, May 29, 1759                                       Died 1818                                                                                     Her children rise up and call her blessed / Her husband also, and he praiseth her / Proverbs 31. 28vs.
Stuart                  Eliza                                                                                                            Monday, December 03, 1792     Friday, January 23, 1863
Stuart                  Henry                                     Chas B.          Sarah M.                                                                            Sunday, August 12, 1838       Infant Son
Stuart                  Henry Clay                                Hy               Cathe                                                                               Wednesday, September 21, 1831 Aged 4 Yrs., 9 Mos.
Stuart                  Martin B.                                 Hy               Cathe                                                                               Saturday, April 19, 1834      Aged 2 Yrs., 6 Mos.
Stuart                  Mary                                                                                                                                           Thursday, February 09, 1882   Aged 90 Yrs.
Stuart                  Nathan                                                                                                           Monday, November 06, 1758     Monday, June 10, 1844         Aged 85 Yrs., 7 Mos., 4 Days               Born in Goshen, Orange County, N.Y.                Died in Lenox Madison County, N.Y.
Stuart                  Sarah Maria                                                                                C. B.                                               Friday, September 28, 1838    Aged 21 Yrs., 6 Mos., 18 Days                                                                 I know that my / Redeemer liveth
Stuart                  Wm. Porter                                Chas. B.         Sarah M.                                                                            Tuesday, September 12, 1837   Aged 3 Mos., 15 Days                                                                          Died at Utica
Stuart                  Wm. Porter                                Henry Y.         Deborah                                                                             Tuesday, September 24, 1833   Aged 21 Yrs., 3 Mos., 4 days
Suksdorf                Alfred                                                                                                                                                                       1890 - 1977
Suksdorf                Mary Jo                                                                                    Alfred                                                                            1898 - 1988
Suksdorf                Theodor                                   Alfred           Mary Jo                                                                                                           1935 - 1962
Swortfiguer             Barbara M.                                                                                                                                     Monday, August 12, 1844       In the 68th Yr of her age.
Swortfiguer             George J.                                                                                                                                      Monday, May 12, 1890
Swortfiguer (Babcock)   Mary Ann                                                                                   George J.                                                                         1825 - 1909
Tayler, D.D. D.C.L.     Benjamin Walter Rogers                                                                                           Friday, March 13, 1857        Thursday, April 10, 1924                                                 Born in British Guiana                             Died in Schenectady / Rector of St. George's Church ( May 1905 - April 1924) / Died in Schenectady / Go labor today / in my vineyard.
Thomas                  Ann                                                                                                                                            Friday, February 01, 1850     Aged 50 Yrs.
Thomas                  Mary                                                                                                                                           Friday, February 06, 1857                                                                                                   A benefactress of this church
Thompson (Potter)       Maria                        Potter       Alonzo           Sarah Maria (Nott)              Launt                 Saturday, March 16, 1839
Tomlinson               Charles H.                                                                                                                                     Tuesday, January 08, 1856     In his 54th year
Tomlinson               David                                                                                                                                          Wednesday, October 01, 1856   Aged 56 Yrs., 11 Mos.
Tomlinson               Sarah                                                                                      Charles H.                                          Friday, January 14, 1853      in her 37 th Year
Tomlinson (Miller)      Phoebe                       Miller                                                        David                 Thursday, November 11, 1773   Friday, September 12, 1845
Topping                 Ann                                                                                        Henry                                               Sunday, April 18, 1819        41 Year of age
Topping                 Lettice                                                                                                                                        Wednesday, October 01, 1817
Tower                   James                                     Samuel H.        Sara Sexton         Sexton                            Saturday, May 16, 1846        Saturday, October 17, 1863
Tripp                   Thomas B.                    Tripp        Arthur           Sarah                                                 Sunday, April 20, 1788        Monday, June 04, 1832                                                                                                       Son of Arthur & Sarah Tripp of Providence R.I.
Van Eps (Miller)        Ally                         Miller       Charles          Hannah                          Abr.                  Sunday, February 09, 1766     Wednesday, September 20, 1826                                                                                               Daughter of Charles and Hannah Miller, wife of Abr Van Eps
Van Ingen               Abraham                                   Doctor Dirk                                                            Tuesday, November 30, 1773    Friday, March 18, 1853
Van Ingen               Catharine Ann                             Abraham          Elizabeth                                             Tuesday, May 15, 1821         Sunday, August 29, 1852                                                                                                     So he giveth his beloved / sleep.
Van Ingen               Charles                                   Abm              Eliz.                                                                               Wednesday, October 29, 1823   Aged 9 Mos., 5 days
Van Ingen               Elizabeth                                 Abm              Eliz.                                                                               Tuesday, February 06, 1827    Aged 16 Yrs., 20 Days
Van Ingen               Margaret                                                                                   John V.               Friday, November 11, 1768     Friday, August 30, 1839                                                                                                     Relict of John V. Van Ingen
Van Ingen               Theodore Richard                          Abraham          Elizabeth                                             Friday, March 08, 1811        Wednesday, August 29, 1849
Van Ingen               Wm. Henry                                 Wm.              Sarah                                                                               Thursday, May 26, 1831        1 Yr., & 21 Days                                                                              Son of Wm. & Sarah Van Ingen
Van Ingen (Van Boskirk) Elizabeth                    Van Boskirk                                                   Abraham               Sunday, December 22, 1776     Saturday, September 08, 1849
Van Vlect (Ragon)       Mary                         Ragon                                                         Jacob                                               Friday, September 21, 1821    Aged 76 Yrs., 4 Mos.                                                                          Consort of Jacob Van Vlect
Van Vorst               Abraham A.                                                                                                       Friday, November 28, 1806     Friday, December 02, 1898
Van Vorst (Hulbert)     Amanda M.                    Hulbert                                                       Abraham A.            Sunday, November 08, 1807     Saturday, July 10, 1880
Vannostrand             Mary E.                                                                                                          Monday, May 26, 1828          Thursday, August 14, 1913
Viele                   Alice Butler                              J. Fonda         Mary S.                                                                             Thursday, July 17, 1879       Aged 11 Mos., 3 Days
Viele                   Mary Smith
Volkova                 Natalia Nikhailovna                                                                                              Monday, January 20, 1890      Tuesday, July 31, 1973                                                   St. Petersburg, Russia                             Died in Vermont
Vrooman                 Cornelius (Doc)                                                                                                                                Sunday, January 20, 1811      In the 51st Year of his age                                                                   This stone protects his --- dust
Vrooman                 Sarah M.                                  J. H.            M.                                                                                  Thursday, February 01, 1844   9 Yrs, 6 Mos., 29 days                                                                        Father Mother Brothers weep not for me. I left this world in my youthful day. Free of Sin & shame I trust to dwell in my Savior's arms.
Vrooman                 Tunis                                                                                                            Monday, August 30, 1824       Wednesday, March 15, 1893
Vrooman (Sanders)       Matilda J.                   Sanders                                                       Tunis                 Friday, September 25, 1829    Friday, April 27, 1877
Vrooman (Walsh)         Eliza                        Walsh        Thomas           Eliza                                                 Thursday, June 18, 1767       Monday, April 01, 1811        Died April - 1811
Wager (Howes)           Maria                        Howes        Isaac                                            Ambrose                                             Monday, January 20, 1845      Aged 29 Yrs.                                                                                  Wife of Ambrose Wager of Rhinebeck, Esq. / Daughter of Isaac Howes of Schenectady
Walsh                   Angelica                                                                                                                                       Sunday, November 11, 1821     Aged 82 Yrs., 1 Mo., 8 days
Walsh                   Thomas                                                                                                                                         Friday, April 18, 1806        In the 69th Yr. Of his age.                Native of Ireland                                  Br ye always ready for in such / An hour as ye think not, the / final summons cometh.
Walton                  Alfred B.                    Walton       Jonathan         Margaret Ann                                                                        Sunday, December 04, 1814     1 yr. & 7 Mos.                                                                                Son of Jonathan & Margaret Ann Walton who departed this life the 4th of December 1814 aged 1 yr. & 7 Months.
Walton                  Catherine Teresa                          E.H.             E.C.                                                  Monday, July 18, 1831         Monday, June 26, 1837
Walton                  Edward H.                                                                                                        Thursday, January 12, 1804    Tuesday, June 29, 1858
Walton                  Horatio Nelson                                                                                                                                 Friday, November 27, 1868     Aged 57 Yrs.
Walton                  Jonathan                                                                                                                                       Friday, July 12, 1839         Aged 80 Yrs.
Walton                  Margaret Ann                                                                               Jonathan                                            Thursday, June 22, 1843       Aged 68 Yrs.
Walton                  William B.                                                                                                       Monday, January 25, 1796      Friday, March 14, 1851        Died at Schenectady
Walton (Castelli)       Elizabeth                    Castelli                                                      Edward H.             Sunday, April 26, 1812        Saturday, February 02, 1839
Walton (Mather)         Elizabeth H.                 Mather                                                        Horatio Nelson                                      Sunday, December 27, 1891     Aged 81 Yrs.
Watkins                 Ann Elizabeth                Watkins      J. DeL.          M. A.                                                 Saturday, August 04, 1849     Monday, January 19, 1852
Watkins                 Delancey Walton                                                                                                  Thursday, September 29, 1859  Saturday, December 30, 1933
Watkins                 Edward Walton                             J. DeLancey      Grace T.                                              Wednesday, June 16, 1858      Friday, December 16, 1853     ? Date of Death is before birth?????
Watkins                 Grace Walton                 Watkins      J. DeL.          Grace T.                                              Tuesday, April 08, 1862       Tuesday, August 26, 1862
Watkins                 Hellen DeLancey                           Delancey         Belle                                                 Wednesday, June 09, 1897      Tuesday, February 06, 1968
Watkins                 John De Lancey                            J. DeL.          M. A.                                                 Tuesday, July 29, 1851        Friday, December 16, 1853
Watkins                 John DeLancey                                                                                                    Saturday, August 26, 1826     Friday, May 08, 1868
Watkins                 Susan Teresa                 Watkins      J. DeL.          Grace T.                                              Tuesday, October 23, 1866     Friday, June 12, 1885         In Te Domine Speravi.
Watkins (Carley)        Belle Mitchell               Carley                                                        Delancey Walton       Thursday, June 01, 1865       Sunday, December 04, 1960
Watkins (Walton)        Grace Thatcher               Walton                                                        John DeLancey         Saturday, October 03, 1835    Wednesday, November 13, 1889
Watkins (Yates)         Mary Austin                  Yates                                                         John DeLancey         Thursday, March 31, 1831      Friday, December 23, 1853
Wells                   Joseph                                    Thomas                                                                                               Monday, June 25, 1810         Aged 6 Yrs.
Wells                   Nancy                                                                                      Thomas                                              Tuesday, July 02, 1839        Aged 46 Yrs.                               Native of Endellton Cornwall England
Wemple                  Dorothy                                                                                    Myndert A.B.                                        Sunday, May 29, 1831          In the 69th Yr of her age.
Wendell                 Elizabeth                                 M. T.                                                                                                Tuesday, May 03, 1831         Aged 1 Yr., 8 Mos.                                                                            Erected by his sister
Wendell                 P. F.                                                                                                                                          Thursday, January 30, 1834    Aged 18 Yrs., 11 Days
West                    Jane                                                                                                             Wednesday, November 08, 1815  Thursday, August 08, 1839                                                Native of Smarden, England
West                    John                                                                                                             Sunday, July 04, 1813         Wednesday, October 10, 1866                                              Native of Smarden, England
West                    John Williams                             Jacob            Hannah                                                                              Thursday, December 19, 1872   Aged 27 Yrs., 7 Mos., 12 days                                                                 A Soldiers grave 154 Reg't Co. 4, Sch'dy. Follow on with me
West                    Joseph V.V. (Corporal)                                                                                                                         Tuesday, April 01, 1862       Aged 22 Yrs.                                                                                  Brothers in the Rebellion 1861 / Soldiers born in this church yard School House Dwelling / Co. D. 16. Vol's Davenport Iowa / Died at Camp Monterey from battles at Pittsburgh Landing D--. Hospital No. 9 near Corinth Miss. April 1862 / The soldiers rest He
White                   Jane                                                                                       John                                                Friday, January 18, 1850      In the 76th Year of her age
White                   John                                                                                                                                           Monday, September 24, 1849    In the 78th Yr. Of his age
White                   Joseph                                                                                                                                         Sunday, August 08, 1813       Aged 75 Yrs., 2 Mos., 25 Days.             Native of Sligo Ireland
White                   Mary Ann                                  Samuel           Isabella                                                                            Saturday, June 26, 1813       Aged 6 Yrs., 4 Mos., 26 days
White                   Rebekah                                                                                                                                        Saturday, November 30, 1816   Aged 65 Yrs., 6 Mos., 16 Days                                                                 My flesh shall rest in hope
White                   Robert                                    Samuel           Isabella                                                                            Wednesday, July 01, 1807      Aged 5 Mos., 16 Days
White                   Samuel                                                                                                                                         Sunday, December 12, 1830     In the 55th Year of his age                Native of Sligo in Ireland
White (Anderson)        Isabella                     Anderson                                                                            Tuesday, May 15, 1781         Tuesday, July 18, 1837                                                   Native of Ireland
Wickens                 Joseph                                                                                                                                         Wednesday, April 23, 1856     Aged 70 Yrs., 11 Mos., 21 Days
Wickens                 Joseph                                                                                                                                         Wednesday, February 05, 1845  Aged 27 Yrs.                                                                                  Farwell thou dear departed friend / Lamenting is in vain, / I hope in heaven when Jesus calls / To meet with thee again.
Wickens (West)          Sarah                        West                                                          Joseph                                              Wednesday, August 22, 1855
Wilds                   David Fitch                                                                                                      Sunday, January 31, 1802      Thursday, October 23, 1884                                                                                                  ""The memory of the / just is blessed" Prov. 10:7"
Wilds (Smith)           Eleanor                      Smith                                                         David F.              Thursday, April 12, 1804      Saturday, March 08, 1884                                                                                                    Relict of David F. Wilds
Wiley                   Ann                                                                                                                                            Wednesday, March 15, 1826     Aged 81 Yrs., 21 Days                                                                         A tribute of filial affection to the --- a Mother who during life discharged her great duties with a --- to the glory of God. / Blessed are the dead who die Lord.
Williams                John                                                                                                                                                                                                                                                                       --- Rector of this old parish for 6 years. / ---- After that as Bishop; for 48 years of the old diocese of Connecticut. And for 12 years, presiding Bishop of this Church.
Wooler                  John                                                                                                                                           Sunday, January 31, 1858      Aged 72 Yrs.                               a native of Bradford Yorkshire England
Yates (Fuller)          Catherine                    Fuller       R.M.                                                                                                 Friday, May 23, 1851          25 Years                                                                                      In Memory of Catherine Yates wife of Thomas L. Smith & Dau. Of R.M. Fuller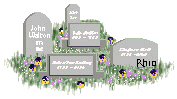 Albany & Eastern New York Genealogy (HOME)
Visitors since 6 Jul 2001